Commercial Trenchless Pipe Lining and Sewer Experts in Greenville, SC, and Nearby Areas
Finding a company you can count on for high-quality commercial water and sewer services in Greenville, SC, is easy if you simply start your search with R.A.H. Solutions. Our established business has been serving this region since 2014, and we look forward to becoming the commercial utility contractor that you rely on now and for many years to come.
Our Full Range of Commercial Services
We provide a comprehensive suite of services to keep your company's water and sewer lines flowing smoothly. Our expertise includes handling all of the following tasks.
Trenchless Pipe Lining - Modern trenchless technology offers a way to repair damaged pipelines without digging them up. This service is ideal for sealing pipes with moderate cracking, tree root incursion, and small-scale separations between sections.
Sewer Repair - Traditional sewer repair is an excellent option for pipelines that have experienced extensive damage and settling. This technique involves excavating all or a portion of a pipeline and replacing the damaged sections with all-new piping.
Main Water Line Repair - A leaky water line can lead to extremely high utility bills, water damage, and even localized flooding. Our team will act quickly to repair or replace your property's problematic water line so that you can avoid these unforeseen issues.
Trenchless Pipe Restoration - Trenchless pipe restoration creates a smooth, new surface inside an old, corroded pipeline. The result is a solid, restored pipe with fewer obstructions to interrupt the flow of water.
CIPP Pipe Repair - Cured-in-place pipe repair services are carried out by inserting a soft, resin-coated liner inside an existing pipe. The material then cures and hardens into a surface that's as strong or stronger than the original pipeline itself.
Pipe Bursting - This is yet another trenchless service we provide. With this method, we can replace an entire pipeline by breaking it up and pulling a new pipe into its place in one continuous motion.
Drain Cleaning - We're equipped to provide first-rate hydro jetting and other drain cleaning services to remove blockages caused by grease build-up, tree roots, and other accumulated materials.
Camera Inspections - A thorough inspection using a waterproof camera is the preliminary step to many of our other services. We're able to spot damage, detect leaks and diagnose pipeline back-ups in order to provide the correct repair services.
Let Us Address Your Commercial Property Needs Today
Make the staff of R.A.H. Solutions your dedicated trenchless pipe lining and sewer experts in Greenville, SC, and nearby areas. Our personnel places a high value on providing attentive customer care. We're available to serve you 24 hours a day. You can also expect generous warranties on many of our commercial trenchless repair services. Schedule an appointment by calling our team or filling out the online form.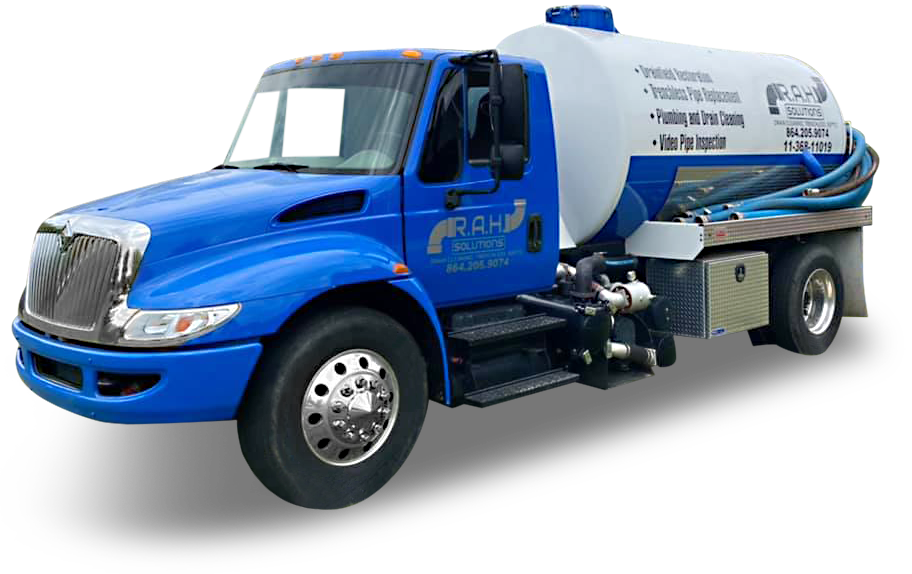 WE ARE HIGHLY RATED AND REVIEWED

THE BEST WARRANTY IN THE INDUSTRY

CUSTOMER SATISFACTION GUARANTEED

FREE CAMERA INSPECTION WITH DRAIN CLEANING SERVICE

CLEAN CUT, SHARP AND READY TO IMPRESS