Your No. 1 Provider of Septic Services in Union, SC
Whenever your septic system needs some attention, know R.A.H. Solutions will get the job done efficiently and affordably. Since 2014, we've been bringing value to our customers with consistently reliable, client-focused results. No matter what has you coming here, know your satisfaction with our septic services in Union, SC, is guaranteed.
Reliable Septic Services from a Top Team
We specialize in septic installation, repair, pumping, and maintenance, R.A.H. Solutions is here to meet all your commercial septic service needs. We manage your waste needs with efficiency without having to compromise your budget. 
Commercial septic systems can be prone to issues, no thanks to the accumulation of grease and other build-ups over time. Natural wear and tear, frequency of usage, and many other factors are also a cause for concern that may require septic tank pumping or other related services. Feel free to get in touch with us when you need:
Septic Pumping

Let our team address the sludge from the bottom of your septic tank. Benefit from a less time-consuming septic pumping service by reaching out to our experts.

Septic Repair

Once you notice that your septic system is leaking, backing up, or experiencing other problems, we will be sure to confirm the source of the issue. We specialize in septic repair on all parts, such as baffles, tank and drain fields, septic lines, lid covers, tank seals, inlet and outlet t-filters, and distribution boxes.

Septic Installation

We can design a new septic system or work on an existing system.

Septic Tank Cleaning

Give us a call when on-site inspections and complete system cleaning are needed. We'll also provide a maintenance program based on what we find during the inspection.
Main Septic System Problems
Septic systems can last from 15 to 40 years or more. Its life expectancy depends on several factors, such as level of usage and how diligent you are with routine maintenance. Clogs, tree root intrusions, tank leaks, or line leaks are among the issues we address here at R.A.H. Solutions. At times, you may deal with soggy spots above where your tank is located, an inability to use your commercial drains, and other issues when you ignore any of the following signs:
Water and sewage coming from the drains
Slow-draining bathroom, kitchen, floor, or commercial drains
Strange drain sounds
Foul odors emanating from the drain field or tank area
Standing water or damp spots near the tank
Why Clients Trust R.A.H. Solutions
There are many reasons clients in Union, SC, trust us and leave reviews encouraging new customers to take advantage of our services. One of the top ones is our ability to make innovative technology that minimizes disruptions accessible and budget-pleasing.
Our experienced utility contractors also provide a broad range of services and solutions, particularly minimally invasive solutions like trenchless pipe lining. Reasonable, upfront pricing is another reason clients trust us. Before any work is done, we'll provide an honest assessment of what's going on, answer your questions, and let you know what you can expect to pay
Another reason clients rely on our fully licensed and insured team is because we come prepared. We do this with fully stocked trucks and the right tools and equipment needed to produce timely, top-notch results. R.A.H. Solutions is a fully licensed and insured utility contractor that's been keeping customers in Union County satisfied since 2014. We bring value by:
Keeping rates reasonable
Remaining on the job site until our clients are completely satisfied
Offering the best warranties in the business
Treat Yourself to A+ Service Today
A Permaform-certified installer, R.A.H. Solutions understands the importance of providing long-term value and not just quick fixes. Optimal value is what you can expect when you put our seasoned local contractors to work for your septic needs in Union County. Give our local team a call today or fill out the online form to book an appointment for our septic services.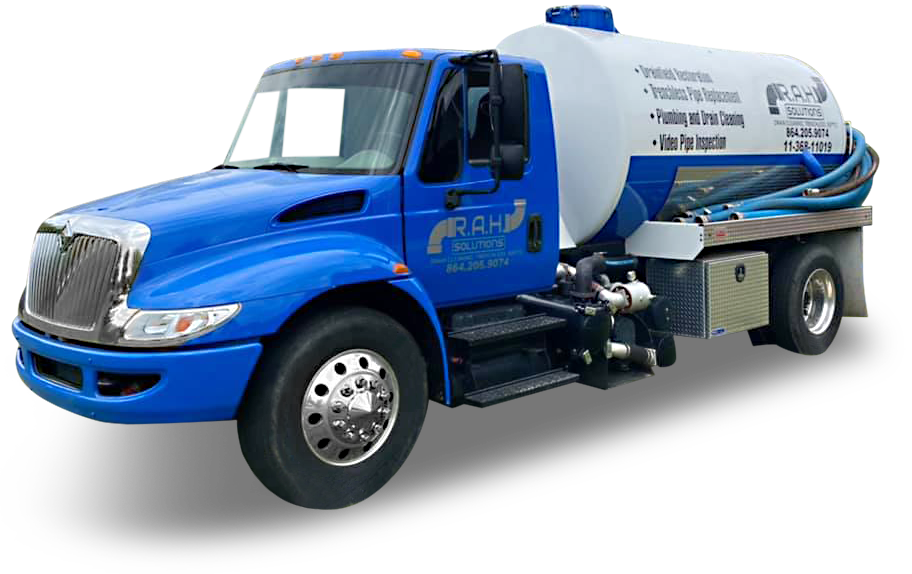 WE ARE HIGHLY RATED AND REVIEWED

THE BEST WARRANTY IN THE INDUSTRY

CUSTOMER SATISFACTION GUARANTEED

FREE CAMERA INSPECTION WITH DRAIN CLEANING SERVICE

CLEAN CUT, SHARP AND READY TO IMPRESS