The Local Leader in Septic Pumping in Spartanburg, SC
R.A.H. Solutions is pleased to be the fully licensed and insured company best equipped to provide cost-effective and reliable septic services in Spartanburg, SC. One of the services we provide for our commercial clients is septic maintenance. This involves professional pumping and a meticulous approach to keeping septic tanks and lines clean and clear.
Reliable Septic Pumping Process
A septic tank pump-out typically involves using a muck-rake to stir up sludge at the bottom of the tank to break up materials. Doing so makes the pumping process more effective. The pumping itself involves pump lines that remove the scum layer and any settled scum and effluent. Regular septic tank pumping or at least every 2-3 years is important because this process removes excess waste. 
Unique Benefits
Preventing septic system/tank damage
Saving you time and money by reducing your risk of dealing with unexpected backups or clogs
Protecting your property
Reducing the risk of disruptions to your business operations if you rely on commercial drains for your operations
Signs You Need a Septic Tank Pumping
Septic tanks naturally accumulate sludge and scum from regular use. If the tank is full or overflowing because it's clogged or caked with heavy and thick residue, the biggest effect could be on the ability to remove waste effectively. Lack of regular maintenance and cleaning is the top cause of septic tank issues. These may require emergency pumping and clearing to restore normal flow. You may also need more frequent septic pumping in Spartanburg, SC, if you have a tank that's not correctly sized for your needs.
Ever notice...
Sluggish drains
Odors coming from multiple drains
Wet spots or unusually lush landscaped areas over your drain field
Standing water around the drain field/tank area
Sewage backups
Then be sure to get in touch with us!
R.A.H. Solutions: Your Septic Services Expert
We are a locally based company with the resources and skills required to address a wide range of septic and pipe issues, particularly ones involving commercial systems. Choosing us for your septic, drain, or pipe needs also means you'll benefit from fair, honest pricing and top-notice service that's good for your pipes, waste system, and bottom line.
Expect Only the Best from Our Team
When you contact us about septic pumping, septic repair, or any other septic-related services we provide, you can expect optimal value for your investment. In fact, we've been treating our customers to top-notch customer service that's second-to-none since 2014.
Septic Pumping FAQs
Do you look for other issues when pumping a tank?

Our experienced utility contractors are committed to providing top-quality results for our customers. So, if any other issues are discovered during the initial inspection that's done when preparing for pumping, we'll let you know if you need immediate septic repair.

Should I schedule preventative pumpings?

You don't have to wait until you are seeing clear signs of a problem before you contact us about septic pumping. If your drain/sewer lines are frequently used, for instance, annual cleanings that include pumping can be beneficial.

What can be done to reduce septic tank/system issues between professional pumpings?

Being mindful of how your interior or commercial drains are used is one of the most effective ways to minimize sludge/debris buildup. Maintaining your drain field by watching where surface plantings are placed can also be helpful.
Call Today to Schedule a Septic Pumping
Whether you're coming to us for septic installation or routine maintenance that involves cleaning and pumping, rest assured that you will receive reliable results and professional solutions. We provide septic pumping in the following areas: Spartanburg, SC, Cherokee County, SC, and Union County. R.A.H. Solutions is also at your service 24/7 for urgent situations. Call us or book an appointment online today to schedule an inspection and pumping.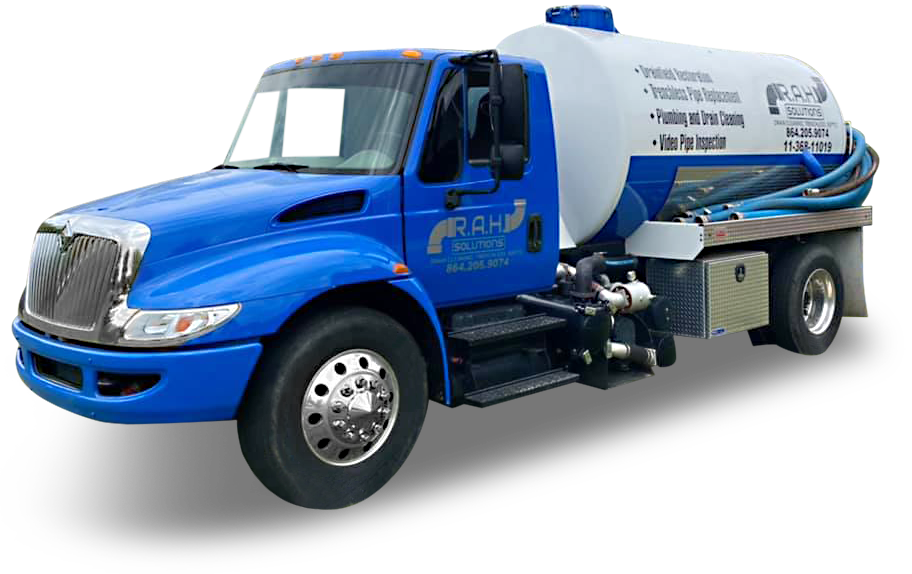 WE ARE HIGHLY RATED AND REVIEWED

THE BEST WARRANTY IN THE INDUSTRY

CUSTOMER SATISFACTION GUARANTEED

FREE CAMERA INSPECTION WITH DRAIN CLEANING SERVICE

CLEAN CUT, SHARP AND READY TO IMPRESS