Septic Services in Spartanburg, SC
From new septic installation and repair work to routine pumping and regular maintenance, R.A.H. Solutions has all your commercial septic service needs covered. We consistently and thoroughly manage our local clients' waste needs with optimal efficiency and affordability. We specialize in trenchless services, which rely on technology that allows us to conduct repairs without the need for extensive digging.
Reliable Services for All Septic Needs
Cooking oil, grease, and similar substances commonly used in commercial settings can affect septic systems over time. Septic systems can also be affected by age, frequency of usage, and many other factors. For this reason, we offer a broad range of septic services in Spartanburg, SC. These include:
Septic Pumping

Make the process of removing sludge from the bottom of your septic tank less time-consuming by letting our local pros take care of your septic pumping needs.

Septic Repair

If your septic system is leaking, backing up frequently, or showing other signs of a problem, we'll track down the source of the issue. We offer septic repair on all key parts, including tank and drain fields, lid covers, septic lines, tank seals, baffles, inlet and outlet t-filters, and distribution boxes.

Septic Installation

When a new septic system is what you need, contact our seasoned contractors right away. We can completely design a new system or enhance, modify, or add to an existing system.

Septic Tank Cleaning

For septic cleaning and maintenance, we do on-site inspections and complete system cleaning. We'll also make recommendations based on what's found during the inspection that's done as part of the cleaning process.
Common Septic System Problems
If you're experiencing septic tank or systems problems, they are likely to involve clogs, tree root intrusions, tank leaks, or line leaks. The effects of septic system issues can range from soggy spots above where your tank is located to an inability to effectively and safely use your commercial drains. The symptoms suggesting you have a septic system problem include:
Water and sewage coming back up through drains
Bathroom, kitchen, floor, or commercial drains that drain slowly
Unusual drain sounds like gurgling
Foul odors around the drain field or tank area
Standing water or damp spots where the tank is located
Our team can also assist those who are thinking of purchasing a home. R.A.H. Solutions can provide a thorough septic inspection on your potential property.
Septic Service/System FAQs
How long can I expect my septic system to last after a new installation?
Septic systems can last, on average, anywhere from 15 to 40 years or more. Your system's life expectancy depends on several factors, such as level of usage and how diligent you are with routine maintenance.
How often should a septic system be pumped and cleaned?
The general rule of thumb is to have your system professionally cleaned and pumped every 2-3 years. However, if your commercial system is heavily used, annual septic tank pumping may be more advisable, and ultimately, beneficial.
Do I need a larger septic tank?
If your existing tank is older or was not correctly sized in the first place, you may benefit from a larger septic tank when it's time for a new installation or replacement. We'll check out your current system and let you know if you should consider a larger tank.
Trust Only R.A.H. Solutions
R.A.H. Solutions is a fully licensed and insured utility contractor that's been keeping customers satisfied since 2014. We bring value by:
Keeping rates reasonable
Remaining on the job site until our clients are completely satisfied
Offering the best warranties in the business
Professional solutions with first-rate customer service are what our local team always provides. Our contractors will also arrive on time for scheduled appointments and as quickly as possible when an emergency septic service is needed. Rest assured that we will respect your property and keep disruptions to your operations at a minimum. We also offer trenchless services whenever possible, so we can provide the best results without the need for dig methods.
Get Top-Notch Solutions for Your Septic Concerns Today
R.A.H. Solutions is the company to call when your commercial septic system needs some attention. We provide septic services in Spartanburg, SC, Cherokee County, SC, and Union County only. Contact us today to schedule an appointment or request urgent assistance 24/7.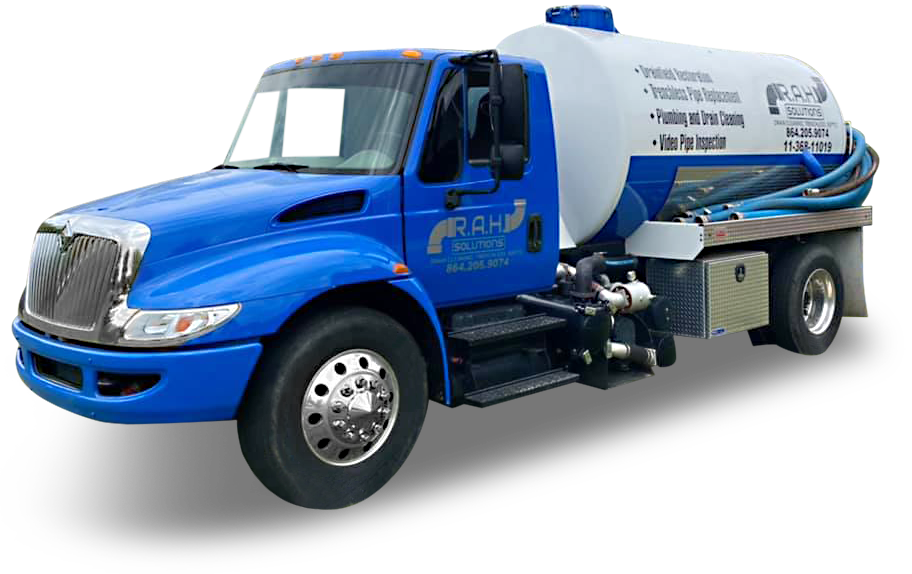 WE ARE HIGHLY RATED AND REVIEWED

THE BEST WARRANTY IN THE INDUSTRY

CUSTOMER SATISFACTION GUARANTEED

FREE CAMERA INSPECTION WITH DRAIN CLEANING SERVICE

CLEAN CUT, SHARP AND READY TO IMPRESS