The Top Provider of Septic Services in Spartanburg, SC
Since 2014, R.A.H. Solutions has been the company to turn to for septic services in Spartanburg, SC. In fact, we can perform anything involving septic systems, pipes, drains, and urgent needs. No matter what's going on with your septic tank or its connecting parts, know we offer professional solutions with unmatched customer service and satisfaction.
Septic Services – an Overview
We treat our customers to superior septic pumping and related services. We primarily serve commercial clients with more extensive or complex septic tanks, although our team is equally prepared to meet larger-scale residential septic system needs. Our services for septic systems also include installation, repair, cleaning, and routine maintenance.
Whether it is regular septic tank pumping or emergency repairs, we've got all your septic system needs taken care of at R.A.H. Solutions. Here is a closer look at what we specialize in:
Septic Repair

If you are noticing foul odors, sewer backups, pooling water, or other signs of potential or likely septic issues, give our team a call. We'll arrive promptly and track down the source of the problem. We'll then make the necessary septic repair using only quality parts or components.

Septic Installation

We work on new septic system designs and installations and replace existing systems that can no longer be cost-effectively repaired. A new installation is also worth considering if your existing tank isn't correctly sized for your needs. For any type of septic installation, we'll go over your options, give you an honest, upfront estimate, and get the work done in an orderly, efficient manner.

Septic Maintenance

Ensure proper septic maintenance with a routine inspection to identify any potential issues. We'll also check the sludge level and the riser lids, if present, for any cracks as well as the baffle connections and drain lines. Should any problems be found, we'll recommend the most appropriate and cost-effective solution. Septic maintenance can also involve pumping, which is when we remove liquids and floating solids with a vacuum hose.

Septic Cleaning

During a septic system cleaning, our team will remove all water and compacted solids and sludge from the tank. This process also starts with a visual inspection of the tank and key septic system parts. We recommend annual cleanings – or more frequent ones if you have a heavily used commercial septic system.
Common Septic Problems
A septic system gets a lot of use on a regular basis, so it can be affected by various problems at one time or another. The more common ones you may experience include:
A failing septic tank leach field
Backups from a clogged or filled up tank
Tank or line leaks
Damage from tree roots
Septic drainfield issues
Work With the Leading Experts on Septic Services
As we're based locally, you can count on our team to arrive promptly when urgent assistance is needed and on time for scheduled appointments. Our top-quality septic system services can also extend the life of your existing system and reduce the risk of serious or disruptive septic-related issues.
There are many reasons you'll absolutely appreciate letting our experienced team take care of your septic needs. At R.A.H. Solutions, you can benefit from:
A fully licensed and insured team
No hidden fees or up-sells
Respect for your property
Competitive and reasonable rates
24/7 availability, including on weekends and holidays, for urgent situations
Get Prompt, Cost-Effective Results Today
Bringing value to our local customers is what we take pride in and do best at R.A.H. Solutions. When you reach out to us for anything septic-related, know the job will be done right by our trusted team. Contact us today to benefit from the septic services we offer in Spartanburg, SC.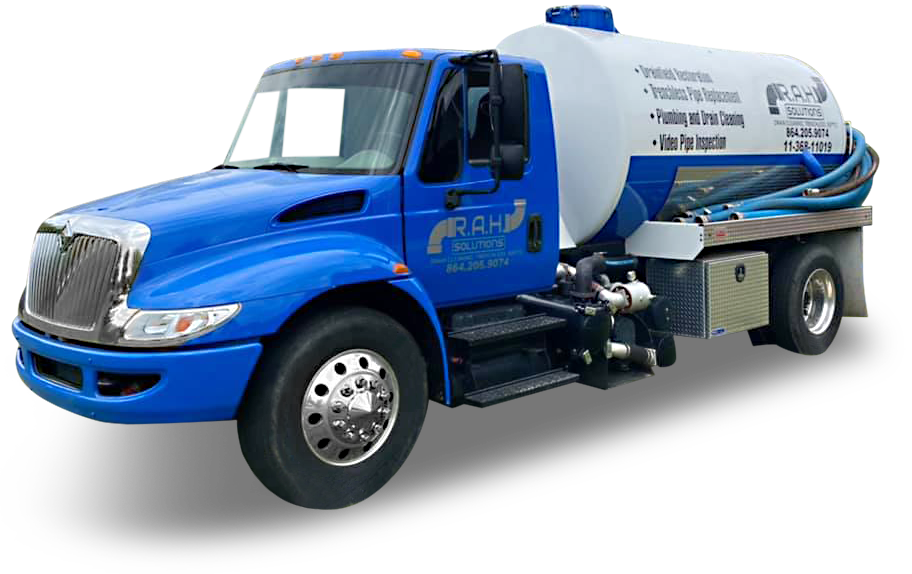 WE ARE HIGHLY RATED AND REVIEWED

THE BEST WARRANTY IN THE INDUSTRY

CUSTOMER SATISFACTION GUARANTEED

FREE CAMERA INSPECTION WITH DRAIN CLEANING SERVICE

CLEAN CUT, SHARP AND READY TO IMPRESS